Why Award Winning Video & Photography for your Wedding?
#1- A Bride & Groom can find complete assurance that both video & photography will be artistic and customized just for them. We are a trusted and proven company with an experienced team of friendly professionals who have years of experience, talent, equipment, and who are almost invisible at weddings.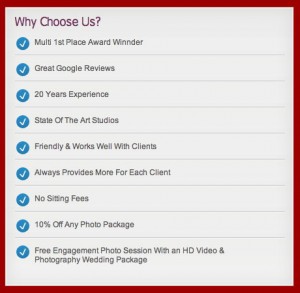 #2- When one company produces both video & photography, the wedding couple and their family and friends benefit by having both video and photography incorporated together. We will use the photos in the video to enhance it and will also provide a complete photo slideshow of all the photos we take during your wedding day. You will not only have great printed photos, but also a beautiful and convenient slideshow with your choice of music. When Award Winning Video produces your wedding, photographers and videographers work well together as a closely knitted team until the product is finished. Feel free to view our Sample Wedding Photos and Sample Wedding Videos
#3- We have a great reputation as being the best in the wedding industry in New Mexico and have an excellent Better Business Bureau rating.
Packages including both video & photography start at $500. We also have just video or photography a la carte'.
We offer:
•  Free Glamour Photo Shoot for the Bride
•  Free Engagement Photo Session
•  Hard Cover Deluxe Coffee Table-type Photo Books
•  Your Wedding Video on YouTube
•  Online Photo Selection and Ordering
•  Childhood Photo/Video Montage
•  Special Lover's Video
•  Free DVDs for all parents
•  Hollywood-style DVD menu
Wedding Photographer
At Award Winning Video and Photography, our dedication is to preserving the magic of your wedding day through photography that reflects your unique style and chemistry as a couple.
Using state-of-the-art camera equipment and an unobtrusive, professional approach to wedding photography, we strive to capture those unique, precious moments in photographs and portraits you'll treasure forever. Whether your wedding is going to be big or small, formal or modern, simple or complex, we have the experience to create a photographic record worthy of occupying a permanent space on your mantle, and in your hearts.
We offer wedding albums in a variety of styles and other options to accommodate any budget, and we're flexible in just about every other aspect of wedding photography, from custom photo shoots to working alongside other members of your wedding planning team.
For more information or to receive a price quote, please contact us today. (505) 269-0939